DigitalOcean is a new kid of cloud VPS provider. They have a bold tagline: "Simple Cloud Hosting built for developers". After a rapid growing during the last 3 years, DigitalOcean has become one of the most reputable VPS provider.
Selling Points
Active Developer Community
DigitalOcean's community is the most active community I have ever seen. Developers and experts share their experience and tutorials. Users can find almost everything here. If you can't get a answer here, a robust Q & A section is your place to ask questions.
SSD-only cloud
DigitalOcean's servers uses Solid State Disks. Their speed will benefits the performance of your WordPress websites or applications hosted on DigitalOcean.
Hourly Pricing
DigitalOcean offer hourly plan, which means you don't need to pay when you don't use it. Compared to most monthly based VPS plans, it will help customers save budget. What's more, DigitalOcean's price is really competitively. The lowest plan only cost $5 per month.
DigitalOcean Control panel
The most outstanding feature of DigitalOcean it the easy to use control panel. It offers seriously awesome management features for developing with DigitalOcean droplets. By the way, it is also very modern and appealing. The design is clean and easy to navigate.
With the simple click of a button they provided, you can deploy your favorite Linux distribution or install your favorite applications in 55 seconds. They offers most popular stacks and applications like LEMP, LAMP, Node.js, Drupal,Ghost or WordPress.
In the image tab, customers can backup VPS image manually.You can use it to spin up a new droplet, making it easy to clone droplets or environments. If you need automatically backup, they will charge you additional 20% plan price.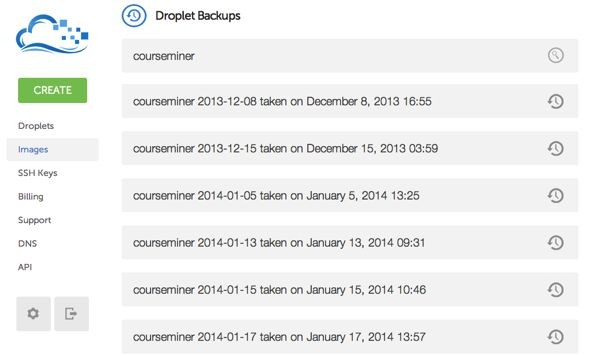 Product/performance/price
Pay-As-You-Grow pricing
DigitalOcean offers two most popular pricing systems – monthly and hourly billing. The intro-level plan is $5/mo or $0.007/hr only. Choose the hourly plan helps starters pay less when they don't need the VPS running.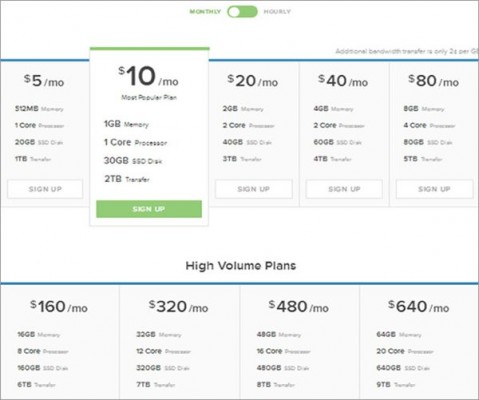 Scalable resources
DigitalOcean have various plans to choose from.
CPU – From 1 to 20 core processors.
Data Transfer – Provide 1TB to 9TB bandwidth for free, and an extra $0.02 for every next GB.
Disk Storage – Various from 20 GB storage to 640 GB disk space.
RAM – At least 512 MB memory, and the most expensive one includes up to 64 GB memory.
Stable server and high availability
DigitalOcean promises to offer 99.99% uptime SLA. Based on our monitoring results from Uptime Robot, it averages 99.98% during the past month.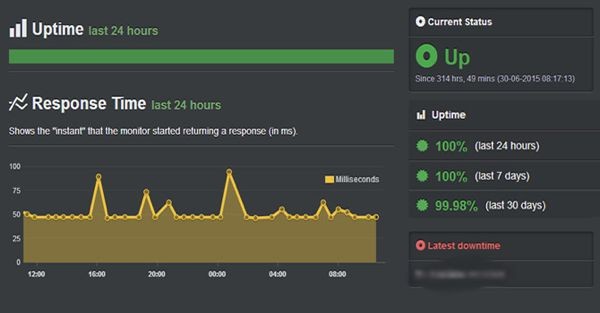 Worldwide Datacenter
In How to speed up website on VPS, we mentioned that website speed is critical to build a business success and choose a nearby web hosting will help you speed up your website.
DigitalOcean has datacenter in Singapore, London, New York, San Francisco and Amsterdam. You can choose a nearest datacenter to host your WordPress.
Customer Support
DigitalOcean attaches special attention to customer service. We can get quick response in 15 minutes when we submit a ticket. Their support team will help you to solve any problems related to their products and even technical problems particularly happened in your running apps.
For simple questions, customers can contact them via live chat. By the way, as I have mentioned earlier, the DigitalOcean has the most active community to get your problems solved.
Disadvantage
After checked all DigitalOcean good factors, I found the missing features. Here is the list I suggest DigitalOcean guys to make improvment.
Missing Load Balancing
When you're being DDoS'sed your account will be suspended for 3 hours
Custom control panel doesn't support Windows OS
Refunds are not allowed
My conclusion
Obviously, DigitalOcean has flexible pricing, scalable resources as well as satisfying performance. It is clearly a great and cheap way to start. The simple yet powerful control panel makes it easy to install popular apps like WordPress, which also makes DigitalOcean distinguished from Linode. It is not just a budget VPS. It offers a great value for money.