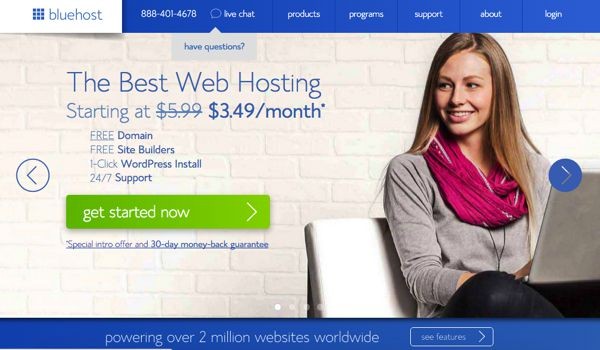 Founded back into 2003, Bluehost is one of the most famous cloud-based web hosting provider. BlueHost's always providing customers with excellence in service and does a good job of balancing price and its service. It has become one of the most reputable shared hosting companies on the Internet and powering more than 2 million websites.
Solid Server Performance
Every webmaster know the importance of the hosting uptime. Based on my own experience, I will delete links from bookmarks when I can't open it. Most people will take the same action as I do when your WordPress website out of service for a hosting down.
When most budget web hosting sucks on server performance, BlueHost scored 99.9% uptime on average with a price from $3.45/mo. I'm quite impressed with score. It will definitely allow users worry less about the hosting performance and have more time to focus on the website service itself.

Usability
When you start to set up a website, the first place to go will be the dashboard. Here you add domains, install files, manage databases, install WordPress, etc. BlueHost uses the cPanel backend. And they well polished and organized  to reduce the appearance of clutter. It makes customers be able to install and manage the web hosting without knowledge of programming.
BuleHost has a lot of self-developed tools for building sites, filtering spam, collecting site statistics, and managing domains. They provide applications such as SimpleScripts, one of the most widely used installation devices on the market. They also added many educational options in addition to the big green Install WordPress button. You can easily build your site with the WordPress content management platform.You can also go to the Mojo Marketplace to download and install other site builders.
User Support
BlueHost offers 24/7 telephone support, online Web chat, a ticket-based system, and a knowledgebase. Customers have access to excellent tech support for any issues regarding BlueHost account. The knowledgebase provide comprehensive details.
They even created a YouTube channel to deliver video tutorials. These vide tutorials are realy helpful. This is very useful for all BlueHost customers when they have problems with the web host.
Basic hosting features
There are many reviews of BlueHost hosting talk about the hosting features. Sure, these facts are important. Below is the basic hosting feature list.
Free Domain Name: Included with all plans
Unlimited Web Domains: Included with all plans!
Best for WordPress: According to WordPress.org
MYSQL Databases: Included with all plans
Easy to use Site Builder: Included with all plans
Advertising Credits: Google $100 AdWords Offer
In additional, BlueHost support rewrite and gzip officially. And they also provide free CDN and CloudFlare service to all accounts. That means, you don't need to worry about how to optimize your web hosting. Because BlueHost have done the needful for all users.
Problem with BlueHost
While BlueHost have many great features, there is a important issue I should tell you in this review. In the past, BlueHost sometimes oversell. These days, BlueHost has made some improvements. Barely we see complaints about CPU throttling recently. But you still need to pay attention to your CPU throttling log.
Conclusion
With reasonable price and competitive service, BlueHost would be a good choice if you are looking for web hosting services for your small WordPress blog. Considering the fact that BlueHost provide applications such as SimpleScripts, BlueHost is a good pick for WordPress beginners.
For more details or to order BlueHost, visit (link opens in new window):