HostGator is a world-leading provider of web hosting service. Since its establishment in 2002, HostGator has grown into the the #1 hosting provider with more than 12,000 servers. HostGator is now serve to over 225,000 customers in more than 200 countries. Approximately 1% of the world's Internet traffic is hosted by HostGator. HostGator houses servers in four of The Planet's Dallas, Texas-area data centers. ThePlanet is the best data center I have ever found. They uses world-class technology to ensure that servers stay up at all times.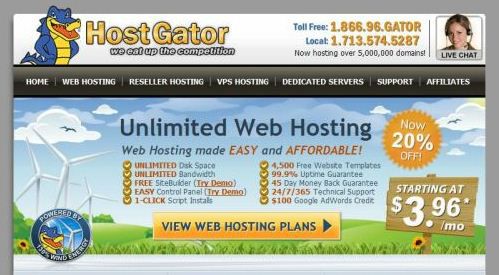 Click here to visit "http://www.hostgator.com"
Reliable Server with Guarnateed 99.9% uptime
A stable web hostingis the basic requirement for you success. It will be shame for a website not accessible for hosting down.  Thus, a reliable server with guaranteed managed working status becomes the first thing you need to count when making a decision. HostGator runs on great brands servers from Dell, IBM, etc. And the Planet provides world-class technology to manage all their servers. All these guarantee you with 99.9% uptime.  I barely notice any downtime for my websites hosted on HostGator.
HostGator Speed Performance and Bandwidth
Many articles on the Internet told you that loading time of your website will place big influence on a website's performance. No one want to wait for seconds to open your website. A research shows 40% users abandon a website takes more than 3 seconds to load and a 1 second delay in page response can result in a 7% reduction in conversions.
The most useful solution to speed up your WordPress blog or website is to get a web hosting with high outgoing speed. HostGator provide great download speed all over the world. You can test out HostGator's speed with this speed test file. The bandwidth limit will affect those website with high concurrent connections. But with HostGator, you should never worry about it. Even if you reached their bandwidth limit, you can purchase additional bandwidth by contact their support sales.
HostGator Customer Support
HostGator consistently receives high marks in the area of customer support. They provide real 24×7 support. HostGator's efficient support system include toll free phone, email, support ticket, and live chat. They also provides a collection of articles, FAQ, tutorials and other resources. They will help you transfer you WordPress blog from other hosting for free. Their powerful tech support team will ensure your website from DDOS hack.
Control Panel
HostGator uses cPanel which I think is the best control panel. cPanel is a Unix based web hosting control panel that provides a graphical interface and automation tools designed to simplify the process of hosting a web site. The control panel let you install WordPress in one click.   It provides you with convenient access to all the tools needed to create email accounts, administer domains, upload files and much more.
Room to grow
Hostgator offers shared, dedicated, reseller hosting. Along with the recently launched VPS hosting plans, Hostgator offer great rooms for website growth. You are allowed to upgrade hosting plan easily. This feature let you start from a economic hosting plan to save huge money.
Extras
45 Day Money Back is Guaranteed by HG. HostGator let you host unlimited domains and they provide unlimited MySQL and POP3 email account. They also  provides $100 in free advertising with Google AdWords. They also have 4,500 Free Website Templates let you to choose from.
Conclusion
Whether you need a simple Worpdress blog or have more complex requirements, HostGator makes an excellent choice for web hosting. The reliability services, support and solid hosting features makes it all deserve its price.
Click here to visit "http://www.hostgator.com"
Use our special HostGator coupon "WHG25Discount" to get 25% off for any order on HostGator.